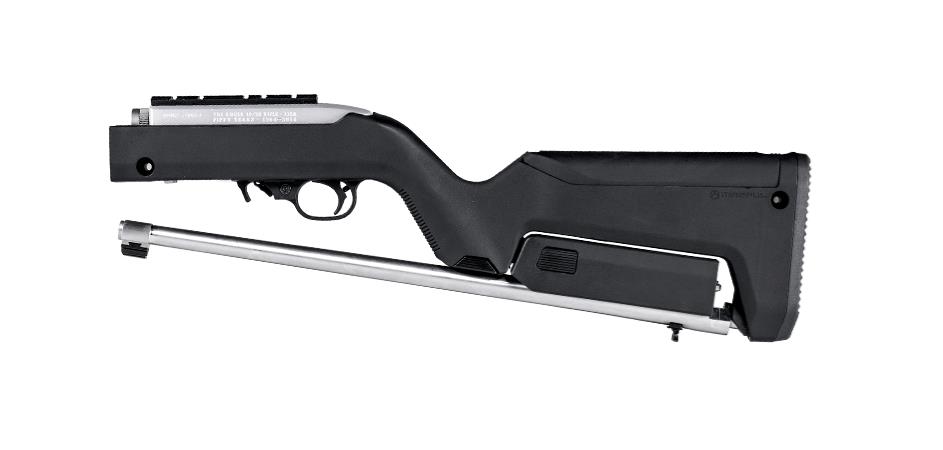 The Magpul X-22 Backpacker stock takes the function of the full-size Hunter X-22 Takedown, and pares it down for ease of storage and transportation. Made for the Ruger 10/22 Takedown rifle, the X-22 Backpacker offers a minimalist solution for the hunter or outdoorsman who wants to transport their rifle in an efficient, convenient package without compromising shooting performance.
Constructed of a durable advanced polymer, the X-22 Backpacker features an ergonomic hand guard, optional QD sling mounting capability, integrated storage compartment in the grip, a hinged storage compartment in the stock capable of storing up to 3 spare 10rd magazines, a MOE SL non-slip rubber butt pad, and a unique locking interface to attach the barrel assembly to the receiver when being transported. Fits all Ruger 10/22 Takedown rifles as well as the Tactical Solutions SBX barrel.
Available in Black or Flat Dark Earth (FDE) color.
Made in U.S.A.
Takedown rifle not included.
FEATURES:
Drop-in design compatible with all factory Ruger 10/22 Takedown
Unique locking interface to attach the barrel assembly to the stock body when being transported
Reinforced polymer construction for strength and durability
Ergonomic hand guard
Comes with interchangeable standard and "optic height" cheek risers
Optional QD sling mounting capability
Integrated storage compartment in the grip
Hinged storage compartment in the stock capable of storing up to 3 spare 10rd magazines
MOE SL nonslip rubber butt pad