Ruger® MKIV is popular among shooting sports competitors and weekend plinkers, but for young shooters or other shooters with smaller hands, reaching the magazine release button without changing hand position can be a challenge.

The TANDEMKROSS "Titan" Extended Magazine Release for Ruger® MKIV is a simple, drop-in replacement for the smaller factory magazine release, and offers significantly more surface area and height to boost the consistency and speed of magazine changes. Shooting with an older MK series pistol? The "Titan" Extended Magazine Release also fits the Ruger® MKIII!

The "Titan" Extended Magazine Release comes with two button styles for a truly custom fit. The round, textured button is taller and slightly wider than the factory magazine release button, but still low profile enough for shooters with larger hands. The textured, paddle-style button extends the magazine release not only out and away from the gun, but also back toward the shooter - ideal for junior shooters!

The Ruger® MKIV magazine release button and paddle are available in black or silver for further customization. Both button styles are made of durable Zytel® and textured for a no-slip grip in any condition. The paddle can also be positioned by the user for the ultimate customized fit.

Below are some photos of the mag release styles installed.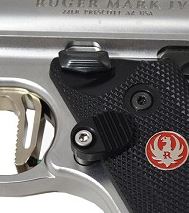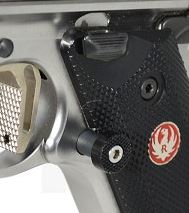 Features provided:
Taller, wider magazine release button - great for juniors or shooters with smaller hands
Includes two button styles, available in black or silver - perfect for customization!
Textured buttons offer no-slip grip in any condition
Supported Models:
Ruger® MKIV Target
Ruger® MKIV Hunter
Ruger® MKIV Competition
Ruger® MKIV Tactical
Ruger® MKIII